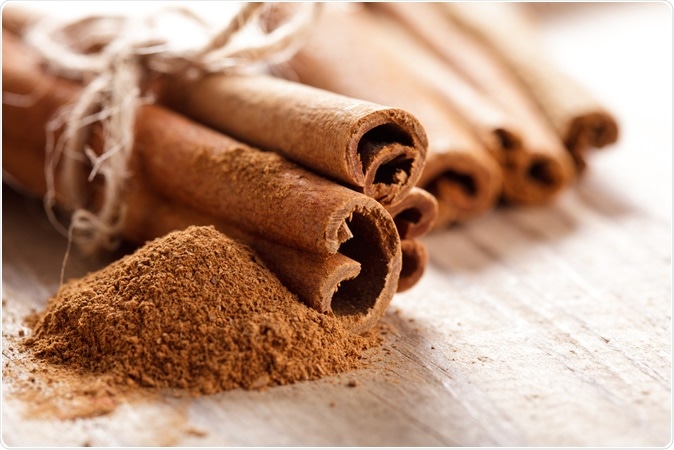 Researchers have found that certain ingredients in cinnamon can help burn fat in humans. They along with several other previous studies have noted that cinnamon – a common kitchen spice – contains cinnamaldehyde. This is an essential oil that gives the special flavor to cinnamon. In laboratory mice, cinnamaldehyde helps to protect against obesity as has been seen in previous studies.
This new study from the team of researchers at the University of Michigan reports that this oil can burn fat in humans as well. The study titled, "Cinnamaldehyde induces fat cell-autonomous thermogenesis and metabolic reprogramming," was published in the latest issue of the journal Metabolism.
The team found that this essential oil in cinnamon can activate thermogenesis. This means that it can activate the metabolism in the body that can burn the body fat to produce heat. There are several other metabolic benefits offered by cinnamon to the body. The gearing up of the metabolism also leads to starting off on a path to weight loss they explain. Lead author Jun Wu, research assistant professor at the Life Sciences Institute said that the benefits of cinnamaldehyde are a known one because of the studies that have been already conducted proving its effects on obesity. What was not known, Wu noted, was the effects cinnamaldehyde was having on metabolism. This was what prompted this study. Wu said, "…we wanted to figure out how -- what pathway might be involved, what it looked like in mice and what it looked like in human cells."
For this objective Wu and colleagues tried to see the effects of cinnamaldehyde on several volunteers or participants who agreed to provide some of their body fat cells or tissues for laboratory studies. The volunteers had different body weights, and were of different or varied age groups and ethnicities. They found that use of this essential oil led to enhancement of certain genes in the adipocytes of fat cells. This led to increased lipid metabolism or break down of the fat. It also triggered thermogenesis or production of heat by breaking down the body fat. Till date however the team has tested this in human cells in the laboratory and not on humans as such.
Molecular look at the state of affairs showed that cinnamaldehyde could significantly activate "protein kinase A (PKA) signaling". This caused increased workings of genes that can cause thermogenesis. This led to increased "HSL and PLIN1 in murine primary adipocytes." There is an increased in genetic workings of proteins Ucp1 and Fgf21 which normally play a role in metabolism and its regulations. Dr. Wu explained that energy surplus and its storage in the adipocytes is a new phenomenon for humans with the abundance of food.
Wu explained that more studies on actual human subjects was necessary to prove that use of cinnamaldehyde indeed was beneficial and safe for consumption. Wu said he hopes that this spice that has been part of the human diet for centuries could offer protection against obesity that is becoming a rising epidemic worldwide. People generally enjoy this spice and if it is protective and beneficial, the chances that people would adopt this and stick to this therapy are higher.
Ref : http://www.metabolismjournal.com/article/S0026-0495(17)30212-3/fulltext
Fat-busting ingredients in cinnamon